Ok, folks, this is a really strange one story. Who in their right mind could ever imagine such a high ranking official being accused of child abduction?  The story is out now online and twitter, and the coincidences involved are mind boggling if he's not involved.  It does seem a real investigation needs to take place.
Here the scoop!
From: The Real Strategy website
Clinton Campaign Manager John Podesta and Brother Tony Behind World Famous Kidnapping of Madeline McCann?
 The sketches of kidnapping suspects look a lot like the Podesta brothers. See for yourself and decide.
On Sunday evening, side-by-side photographs of Hillary Clinton's campaign manager, John Podesta along with his brother Tony beside police sketches of potential suspects in the 2007 kidnapping of 3-year-old Madeline McCann.
The little girl disappeared on the evening of May 3, 2007, from her bed in a holiday apartment in Praia da Luz, a resort in the Algarve region of Portugal.
She had spent part of the day playing by the swimming pool in the Ocean Club resort, where the last known picture of her was taken at 2.29pm.
Her parents had been out with friends at the hotel restaurant approximately 200 feet from where the child had been sleeping. When her mother Kate McCann went to check on her around 11 pm, she had vanished.
This sparked what the Daily Telegraph called "the most heavily reported missing-person case in modern history".
Coverage of her kidnapping was comparable to the press interest in the death of Princess Diana. Her current whereabouts remain unknown to this day.  To proceed with an abundance caution, this story is developing and there is not yet confirmation that these reports are 100% accurate but take a look at the evidence and see what you think –
Podesta + brother Tony, +photos of Madeleine McCann's kidnappers, note the mole placement on Tony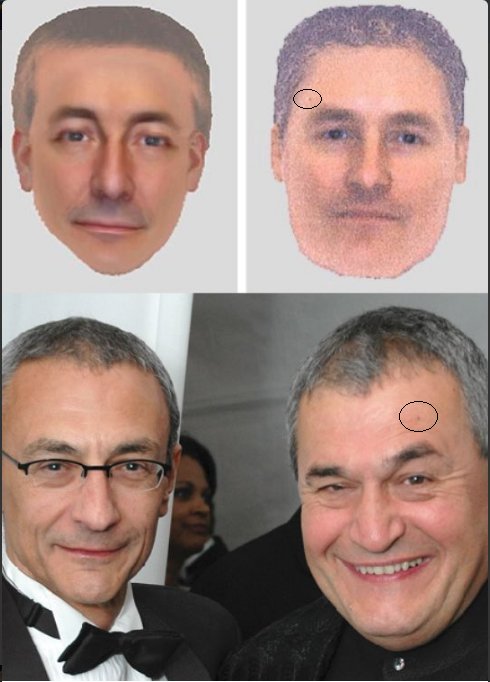 The resemblance is eerily similar with a side by side comparison of the photographs of the Podesta brothers and police sketches of the men wanted in connection with little Madeline's whereabouts. She would have been celebrating her 13th birthday with her family in Rothley, Leicestershire, England this year.
Awkward! Sketches from 2007 Madeleine McCann case look just like Clinton associates.
In the nine years since little Madeleine went missing, a myriad of theories about what happened to her have taken root. It seems this circumstantial evidence goes far beyond just the striking resemblance between the photographs and the police sketches.  For instance, John Podesta's first email from the Wikileaks data dump is dated May 4, 2007. Little Madeline disappeared May 3, 2007.
We found your pedophile suspects @metpoliceuk. You're welcome.
Did John Podesta WIPE HIS EMAILS the day after Madeline disappeared to destroy evidence?
The abduction occurred in Portugal. John Podesta's emails released by Wikileaks show John traveled to Portugal at the same time that little Madeline went missing with reports of Podesta having business in the very same region as the resort where the McCann family stayed.

It has now been 9 years since the night little Madeline vanished from her bed.  Her family continues to search for her and they hope that there is some possibility that she may still be alive after all this time. Madeline's mother, Kate McCann states, "When my little girl first disappeared, on that horrendous night that changed our lives forever, I could never have imagined that nearly 10 years later we would still be in the same position."
People have also pointed out that another police sketch related to the case looks strikingly similar to Anthony Wiener.
In 2013, five years after Portuguese police had closed the case, they reopened it and revealed two new police sketches. Based on the release of these police sketches and the Wikileaks information, many on social media are now speculating about what if it was the Podesta brothers? Given the release of the #spiritcooking emails and other questionable involvements for the Podestas as well as their heavy involvement with known sexual predators, Bill Clinton, as well as the Clinton campaign's associations with Jeffery Epstein, a known sex offender, and convicted human trafficker, Laura Silsby – is taking an innocent 3-year-old little girl from her bed and her family that big of a stretch?
Now, here's my comments on this whole sordid affair.  It could all be a bad coincidence.  The problem is we were just recently confronted with this sick practice called Spirit cooking which Tony Podesta appears tied to. We then find out he likes art depicting tortured children, and his brother has a picture of two men eating another man on his office wall!  Who has this garbage on their walls at the office or at home?